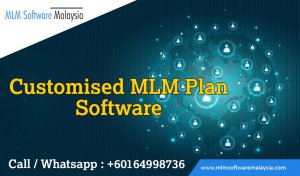 #1 MLM Software Development Company
Welcome to MLM Software Malaysia a premier MLM (Multi-Level Marketing) Software Development Company dedicated to empowering businesses with cutting-edge technology solutions. With a relentless commitment to innovation, we have become a trusted partner for organizations seeking to streamline their MLM operations and achieve unprecedented success in the network marketing industry.
Best MLM Software Development company in Malaysia
In the MLM industry and direct selling arena, MLM Software Malaysia is one of the greatest network marketing software development companies accessible for managing, controlling, and organizing your multilevel marketing organization. You can create unique pay plans and compensation regulations using our MLM plans.
Our MLM Software has all the features you'll need, including an E-wallet, management of distributors and downline members, handling of MLM leads, processing of commissions & payouts, the ability to enable or disable dynamic compression, tracking of sales volumes, profitability statistics, etc.
Leading MLM Software Development Company in Kuala Lumpur

Our mission is to provide MLM companies with customized software solutions that simplify complex network marketing processes, enhance productivity, and foster growth. We are dedicated to delivering user-friendly, robust, and scalable MLM software that empowers our clients to stay ahead of the competition.
Why Choose MLM Software Malaysia for MLM Software Development?
Expertise of 17 years: We boast a team of highly skilled and experienced software developers who specialize in MLM software development. Our experts understand the intricacies of the MLM industry, ensuring that our solutions are tailored to meet your specific needs.
Cutting-Edge Technology: We stay at the forefront of technology trends to develop MLM software that incorporates the latest features and functionalities. This ensures that our clients always have access to the most advanced tools to manage their network marketing businesses effectively.
Customization: One size does not fit all in the MLM industry. That's why we offer fully customizable software solutions that can be tailored to your unique business requirements. Whether you're a startup or an established MLM company, our software can be adapted to suit your needs.
User-Friendly Design: We prioritize user-friendliness in our software development process. Our intuitive interfaces make it easy for both distributors and administrators to navigate the platform, reducing the learning curve and increasing user satisfaction.
Scalability: As your MLM business grows, so should your software. Our solutions are designed to scale with your organization, ensuring that your software remains efficient and effective as you expand your network.
Ongoing Support: We believe in providing comprehensive support to our clients. Our dedicated support team is always ready to assist you with any questions or issues you may encounter, ensuring a smooth experience throughout your journey.
Data Security: We understand the importance of data security in the MLM industry. Our software is built with robust security features to protect your sensitive information and ensure compliance with data protection regulations.
History is dull. But figures are not!
24+ Team Members
4800+ Projects Completed
6+ years of Blockchain Technology Experience
7 Global Locations
Key features of Customized MLM Software Development
Easy to operate
User Management
Replicating Website
Reliable & Classic Dashboard
Customizable Business Plan
Wallet System
SMS Integrations
Point System/ Bonus
Grow By Referral
Swap & Repositioning
Reports
Genealogy
MLM Mobile application
Ecommerce Integration
Repurchasing plan
MLM Software Development Services in Kuala Lumpur and there are several type of MLM Software
Binary Plan MLM Software:
The binary compensation plan, which is a scheme in which distributors are compensated depending on the sales volume of their downline, is the sort of software that is created for businesses that employ it.
Matrix Plan MLM Software:
This kind of software is made for businesses that employ a matrix compensation plan, a scheme in which distributors are compensated according to the quantity of new members they bring on board and the sales volume of their downline.
Uni-Level Plan MLM Software
This kind of software is made for businesses with uni-level compensation plans, which pay distributors based on the volume of sales generated by their downline without placing any restrictions on the number of recruits they can make.
Board Plan MLM Software:
This kind of software is made for businesses that employ board compensation plans, a payment structure where distributors are compensated according to their standing on a board and the amount of sales generated by their downline.
Gift Plan MLM Software:
For businesses that use a gifting compensation plan—a scheme in which distributors give and receive presents of cash or other commodities based on their position in the network—this kind of software is created.